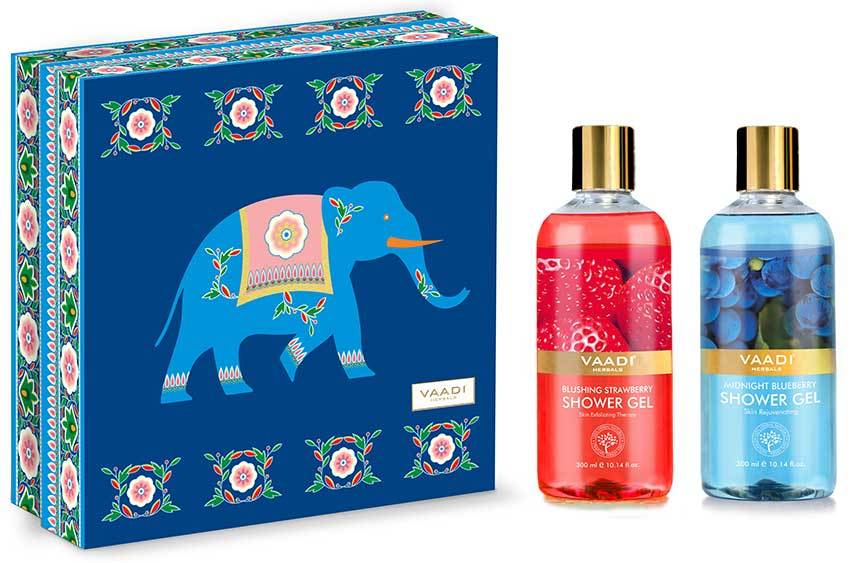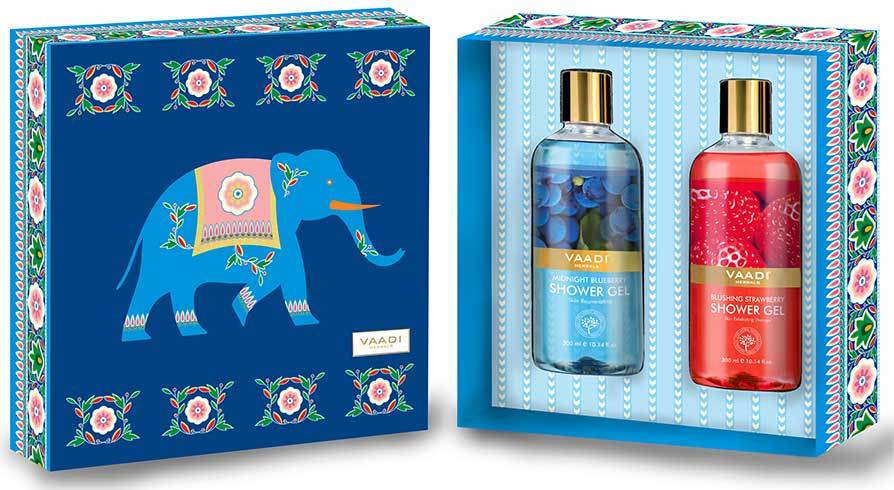 Very Berry Organic Shower Gels Gift Box - Blushing Strawberry & Midnight Blueberry 300 ml - Exotic Bathing Experience
Rs 730
Rs 730
Free Delivery/ Pay Cash on Delivery/ Including VAT (for Orders Above Rs 500)
This traditional gift box, delicately crafted and made by hand, consists of authentic herbal Shower gels that have been made using rich Indian oils, herbs and plant extracts. This fruity combination of Strawberry and Blueberry will ensure that your bathing experience is nourishing and fragrant each time!

Ingredients : Strawberry Extract ( Fragaria Ananassa Fruit Extract), Steam Distilled Green Apple Extract ( Pyrus Malus Fruit Extract), Sweet Almond Oil (Prunus Amygdalus Dulcis Oil), Grapeseed Extract (Vitis Vinifera Extract), Blueberry Extract (Vaccinium Corymbosum Fruit Extract), Steam Distilled Mint Extract (Mentha Aquatica Leaf Extract), Steam Distilled Rose Petals Water ( Rosa Centifolia Flower Water), DM Water (Aqua)

This unique gift box consists of -

Blushing Strawberry Shower gel

The vitamin C rich strawberries pack this shower gel with essential nutrients. They enhance collagen production which keeps wrinkles at bay and gives a great looking, glowing skin. It mildly exfoliates the skin surface and clears dead and dry skin cells, thereby improving the skin quality.

Midnight Blueberry Shower Gel

Vitamin rich blueberries have anti-inflammatory properties and reduce redness and puffiness in the skin. They also help fight free radicals and prevent pre-mature aging, reduce fine lines, wrinkles and help improve skin elasticity. Blueberry extract is also great in controlling levels of oil in the skin and help even out skin tone.

Turn on the shower and step inside Pour some gel onto a ponge or washcloth Lather the soap Gently scrub yourself all over Rinse it all off.