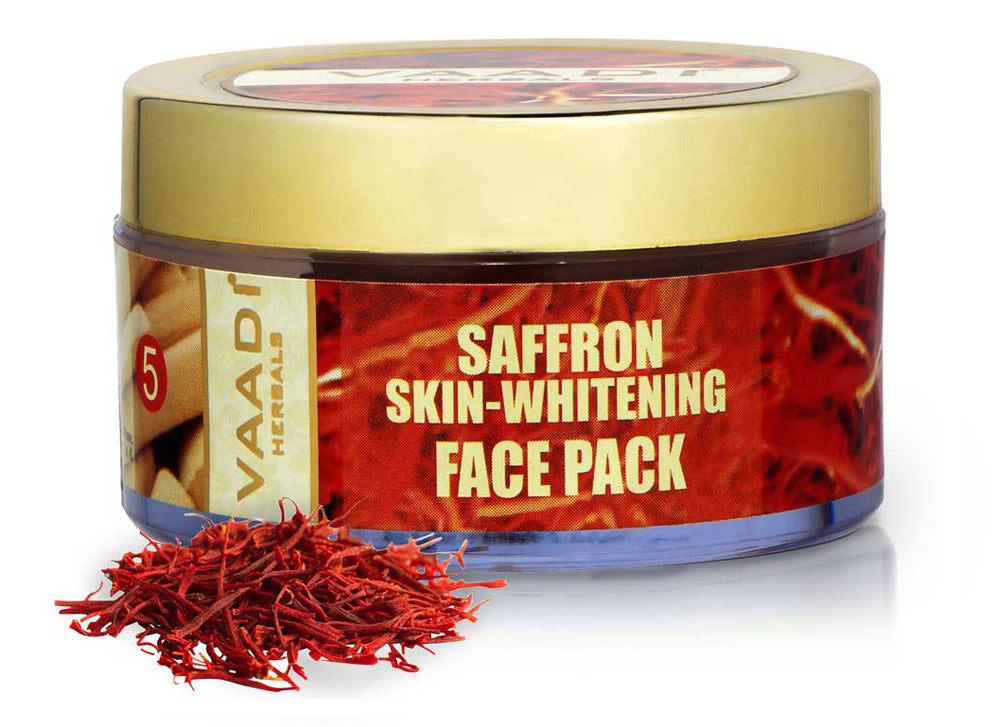 Skin Whitening Organic Saffron Face Pack - Lightens Skin Tone - Reduces Marks and Pigmentation (70 gms/2.5 oz)
Rs 340
Rs 340
Free Delivery/ Pay Cash on Delivery/ Including VAT (for Orders Above Rs 500)
Enriched with pure sandal paste, this scientifically designed Face Pack reduces fine lines and wrinkles and improves skin elasticity. It also removes pigmentation marks and blemishes. Makes your skin fairer, super smooth and clear.

Ingredients : Saffron Extract (Crocus Sativus Flower Extract), Sandal Paste (Santalum Album Oil), Lemongrass Oil (Cymbopogon Schoenanthus Oil), Vitamin A (Retinol), Fullers Earth (Fullers Earth), Manjistha Extract (Rubia Cordifolia), vitamin B, vitamin C, Vitamin E (Tocopheryl Acetate), Dm Water (Aqua)

Why does skin become dull and rough with age ?

Maturing skin becomes more susceptible to external damage as the outermost layer (epidermis) thins out. More UV-induced damage leads to age spots and pigmentation; as well as generation of more cell-damaging free radicals. Also the rate of generation of newer, healthier cells decreases; consequently so does the skin's ability to heal itself. Furthermore, the natural exfoliation process (desquamation) lessens; leading to accumulation of dead cells. Even the collagen production drops; causing wrinkles and sagging. Lose skin may be accompanied by enlarged pores; making the skin more prone to blackheads, as well as acne and other skin infections. All these factors result in the skin looking dull, rough and old.

What is Saffron and how does it help revitalize skin ?

Saffron, or kesar, a derivative of Crocus sativus' flower has been used since centuries as a cleanser, toner and anti bacterial agent. It helps control acne, by fighting skin infections as well as by keeping pores unclogged; by removing excess oil and dead skin cells. It is often used to lighten skin blemishes, pigmentation marks, sun-tan and acne scars, repair dry skin and brighten and even out the complexion. In addition to being an effective skin lightening agent, saffron is also a popular anti oxidant since it promotes cell regeneration and collagen formation, which delays wrinkles and maintains skin's elasticity.

How does Sandal paste work as a skin care agent ?

Sandal paste has been used since centuries to achieve a smooth, vibrant and radiant complexion. It moisturizes dry skin, and shrinks pores of oily skin, hence controlling the oiliness. This makes sandal a great agent for use on all skin types. It also works against UV damage, and helps lighten dark spots and marks caused due to acne, tanning, blemishes or pigmentation. The component beta-santalol present in Sandal makes it a powerful anti microbial or anti septic too, which can be used to treat skin infections, cuts, burns, acne and other skin problems. Sandal has also been known to reduce blackheads and calm inflamed or itching and irritated skin.

What is Lemongrass Oil and what are its effects on skin ?

Lemongrass oil, the well known anti microbial is extracted from the leaves of the grass Cymbopogon citrates. It is used to improve skin's elasticity and firm it up by strengthening connective tissues. Known to improve skin cells' health by improving blood circulation, it also astringent properties. As an anti microbial, it works against skin infections like acne. It is also used to alleviate perspiration. As an astringent, it reduces skin's oiliness and blackheads, while unclogging and shrinking open pores. It can also be used as an anti inflammatory for skin rashes or redness.

What do multivitamins do to benefit the skin ?

Vitamins A, B, C and E together show a synergistic effect on the skin. They smooth the skin texture as well as even the skin tone. The former is done, firstly by their anti-oxidant nature. They boost collagen formation and cellular renewal process; and fight free radicals. In totality they minimize wrinkling and other signs of skin aging; as well as delay the appearance of others. Secondly, they improve the texture by clearing the skin of dead cells; as well as by fighting and preventing problems like acne and blackheads. The former is the action of Vitamin C, which also unclogs the pores and tightens them. And the latter is the effect of reduction of oiliness by Vitamins A and C; and the anti-inflammatory and hydrating action of Vitamin B. As for the evening of the skin tone, Vitamins E and C lighten acne scars, dark-spots and other blemishes; while Vitamins A and B take care of pigmentation spots and anomalies. Vitamin B even helps reduce red blotchiness of the skin. Furthermore, Vitamins A, C and E even helps reduce the damage to the skin from UV rays; while the latter two protect it from further damage as well.

What is Manjistha and how does it help help the skin ?

The herb manjistha is also known as Rubia cordifolia or more commonly Indian Madder. Cultivated for the red pigment in its roots, it also gives the skin a nice reddish tinge. It also adds glow and improves the complexion by multiple actions. Firstly, it helps against a number of skin diseases as well as recurrent skin infections. The latter of which even includes acne. Secondly, irritated or inflamed skin is also calmed, soothed and smoothed by it. Thirdly, prevents the formation of scars, while fastening the healing of skin tissues. It is also effective in treatment of freckles and discoloration of the skin."

Apply A Generous Amount Of This Pack On Face And Neck, Avoiding Eyes. Relax Till Completely Dry. Rinse With Fresh Water. Follow With Vaadi Herbals Sun Shield Sunscreen Cream.