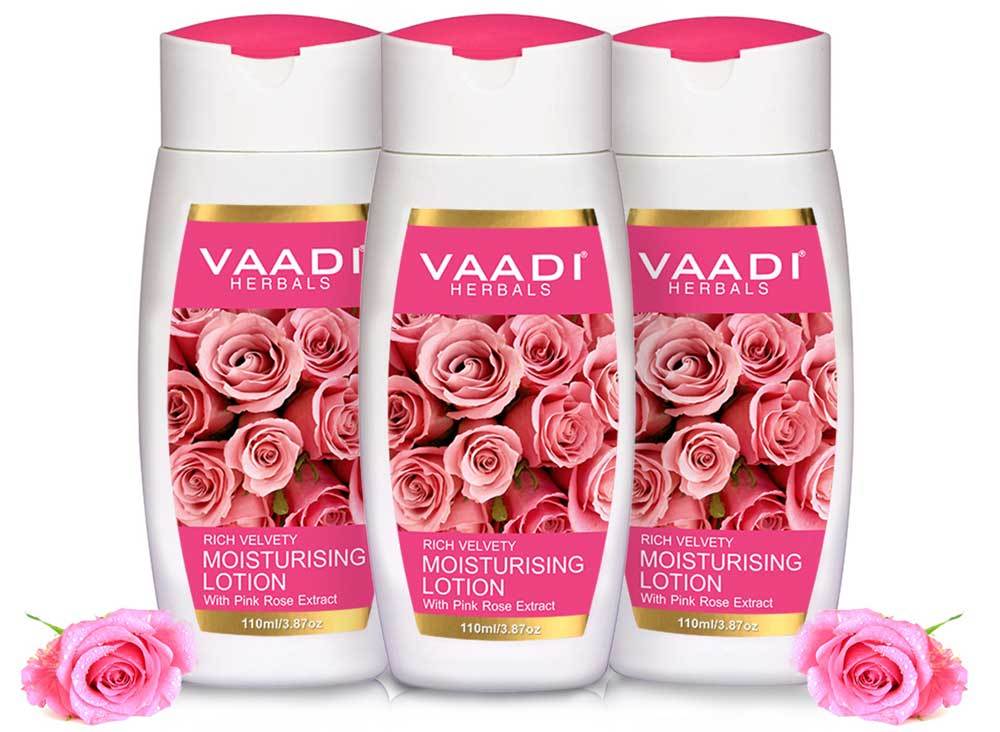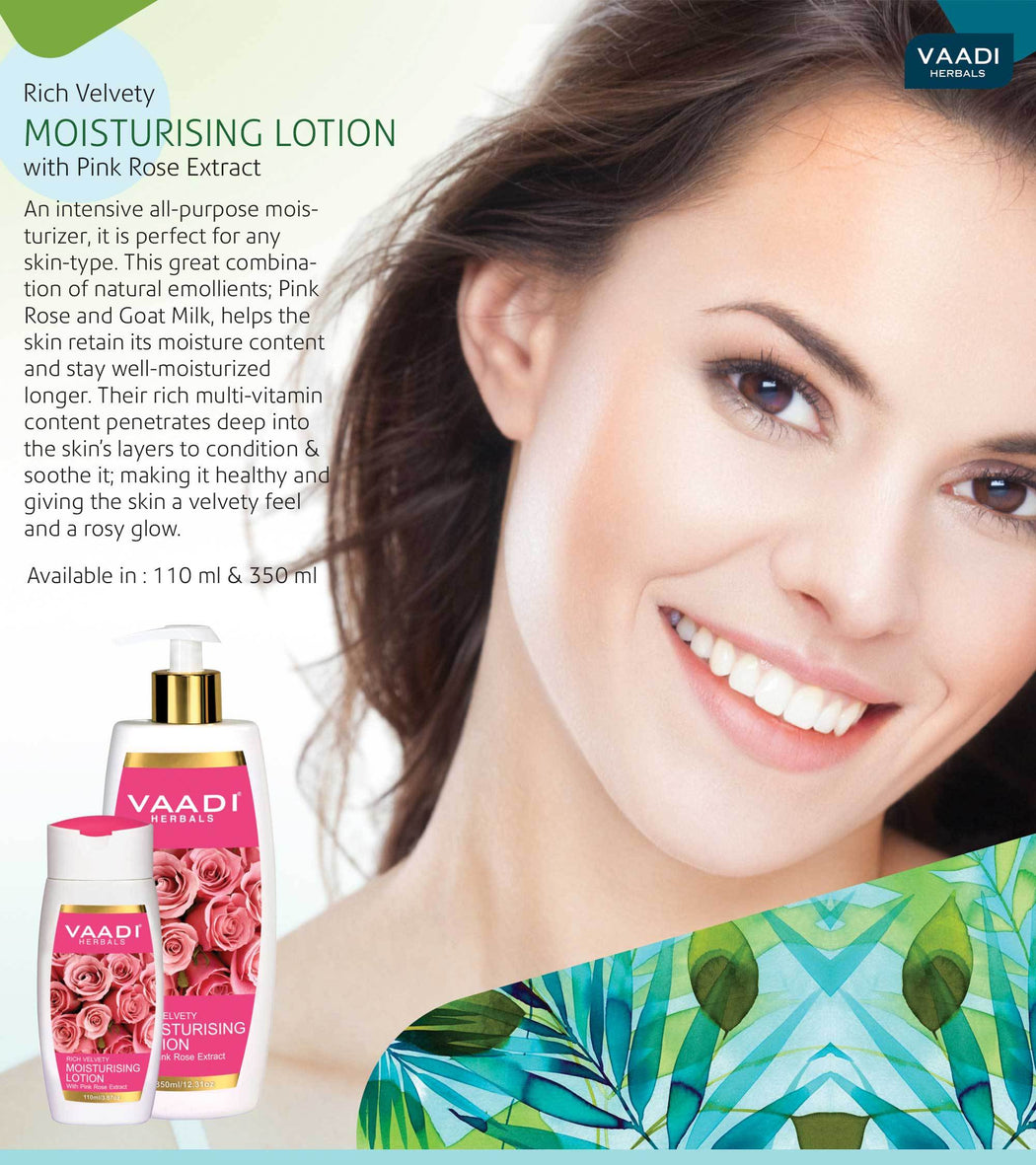 Organic Rich Velvety Moisturising Lotion with Pink Rose Extract - Retains Moisture in Skin - Makes Skin Velvety Soft (3 x 110 ml / 4 fl oz)
Rs 297
Rs 283
5 % off
Free Delivery/ Pay Cash on Delivery/ Including VAT (for Orders Above Rs 500)
An intensive all-purpose moisturizer, it is perfect for any skin-type. This great combination of natural emollients, Pink Rose & Goat Milk, helps the skin retain its moisture content and stay well-moisturized longer. Their rich multi-vitamin content penetrates deep into the skin's layers to condition & soothe it; making it healthy and granting your skin a "velvety" feel and a "rosy" glow.

Ingredients : Pure Pink Rose Extract(Centifolia), Goat Milk (Caprae Lac), Jojoba Oil (Simmondsia Chinensis), Coconut Oil Derivative (Cocos Nucifera), Shea Butter (Butyrospermum Parkii), Steam Distilled Almond Oil (Prunus Amygdalus Dulcis), DM Water (Aqua)

What factors result in making the skin dry and ordinary ?

Exposed to the sun, wind and everyday pollution, the skin eventually bears a tanned, dull and blotched look which cannot be termed attractive in any sense. With stress, junk food and lack of skin care showing on our skin in the form of dry patches, blemishes, pigmentation and acne, a regular skin care regime is the sole and single answer to all the problems related to the skin. A skin care routine is never complete without the final touch of a moisturizing lotion which seeps down the cleansed and exfoliated skin and provides the necessary nourishment to the skin cells thereby making the skin soft to touch and healthy in appearance.

What role do Pink Rose Extracts play in nourishing the skin ?

The attar or oil of Pink Rose is carefully extracted from Pink Rose petals by the process of steam distillation. This essential oil works great on the skin irrespective of the skin type. Even sun burnt skin finds relief with the application of Pink Rose oil. Pink Rose extract is an amazing astringent that soothes the skin from within and provides a gentle, cooling effect. Regular scrubbing and cleansing robs the skin off its moisture. Pink Rose Extracts helps in re-balancing the skin's natural moisture and imparts a glow from within. Last but not the least, the aroma of Pink Rose Extracts is so pleasant that it refreshes the senses in a way that it gives a relax and refreshing feel altogether.

How does goat milk form an effective moisturizing ingredient ?

Dehydrated and parched skin gets an instant relief with the application of goal milk extracts. Goat Milk is known to be a great natural cleanser. Its excellent emollient properties make it an effective moisturizer that thoroughly nourishes the skin from deep within and makes it soft, supple and beautiful. This all-purpose intensive moisturizer gently penetrates in the skin's layers and hydrates the skin without clogging the pores. Goat Milk extracts contain alpha-hydroxy acids that rejuvenate the skin by exfoliation which thereby simulates the regeneration of new skin cells. With regular application, the skin becomes velvety soft and a rosy perfume accompanies you always."

Cleanse Skin Thoroughly. Apply All Over The Face, Arms And Neck In The Morning And At Night. Makes A Perfect Make-Up Base.