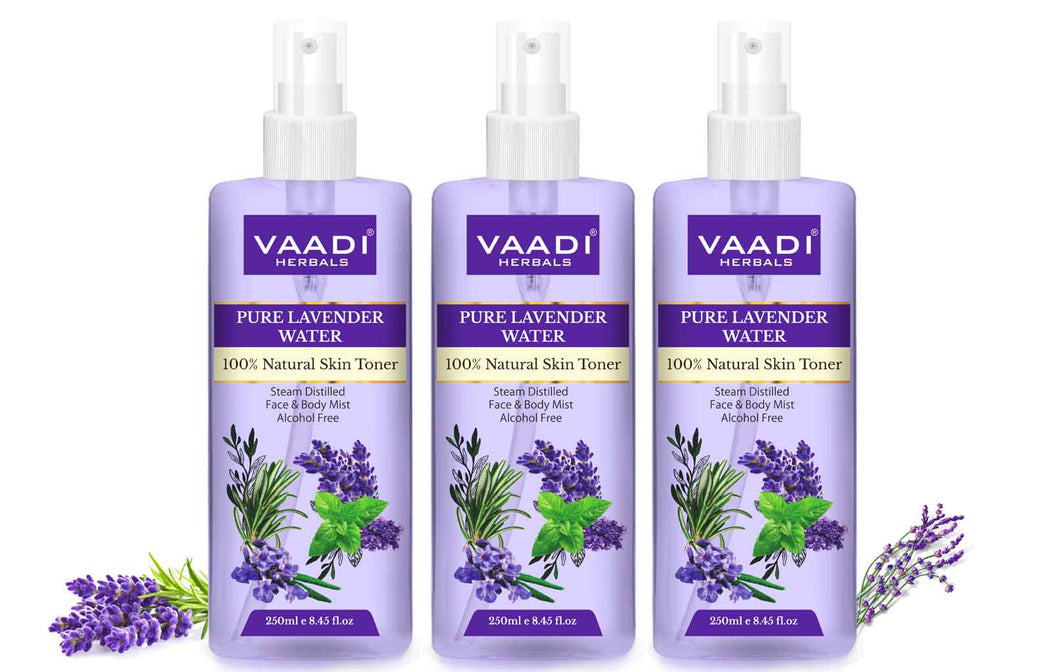 Lavender Water - 100% Natural & Pure Skin Toner (3 x 250 ml / 8.5 fl oz)
Rs 705
Rs 705
Free Delivery/ Pay Cash on Delivery/ Including VAT (for Orders Above Rs 500)
Enriched with the luxurious fragrance of pure Lavender, this natural hydrating toner helps maintain the moisture balance in skin while keeping the face baby soft. A natural anti-depressant, a few sprays of this water relieves anxious nerves, reduces tension and even aids in getting well rested sleep.

Ingredients - Steam distilled extract of Lavender Flower (Lavandula Angustifolia), Aqua.

Lavender water is deeply hydrating mist that clears the facial skin of all dirt and impurities while maintaining the natural moisture balance in skin. It makes the skin feel fresh all day and calms, cools and tones it, leaving it scented with the rich aroma of lavender.

Lavender Oil is extracted from certain species of Lavender flowers by method of distillation. Its pleasant fragrance leaves hands feeling fresh all day and keeps from free from infection. The lavender extract in this water has unparalleled soothing properties that provides an instant boost to the skin. Its calming action makes it perfect for sensitive, irritated skin prone to rashes and allergies.

The Lavender extract rejuvenates tired and damaged skin, removes skin deep impurities, making the skin texture even and superbly smooth.

Spray on face and body and evenly spread it all over or spray twice on cotton swab and swipe it across your face.