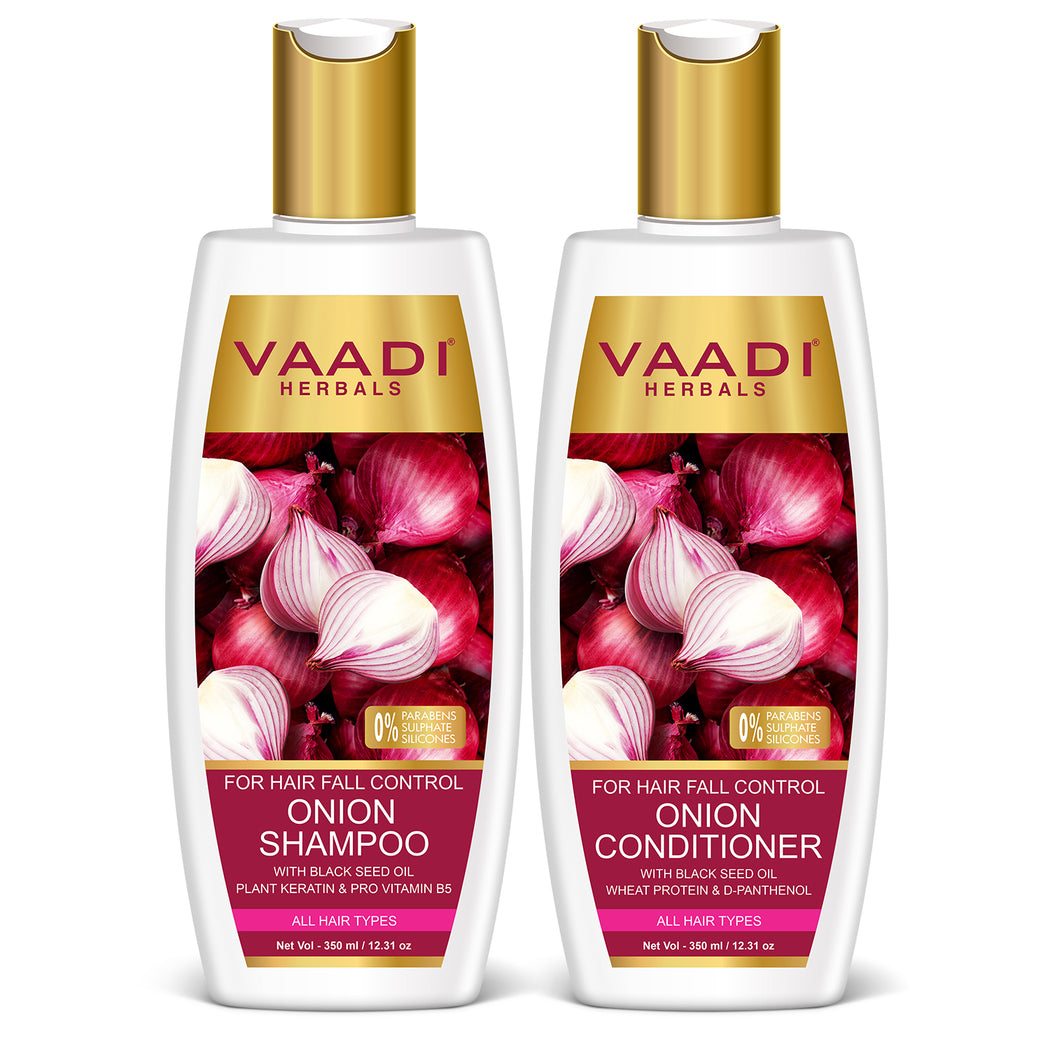 Hair-Fall Control Organic Onion Shampoo With Organic Onion Conditioner (2 x 350ml / 12 fl oz)
Rs 780
Rs 741
5 % off
Free Delivery/ Pay Cash on Delivery/ Including VAT (for Orders Above Rs 500)
This superbly effective hairfall control shampoo is infused with red onion extract with antioxidant properties that nourish the scalp and roots while rejuvenating weakened hair shaft. Presence of Keratin and Panthenol ensures that scalp and hair remain conditioned and helps make hair look healthy and lustrous with each use.This gentle, yet powerful anti-oxidant rich Red Onion extract hair conditioner seals moisture into the hair strands and makes hair supremely soft, smooth, and manageable. It helps to minimize hair breakage, tangles, and excessive hair fall.

Onion Extract:It is flavonoidrich, strengthens strandsand improves hair growth

BLACK SEED OIL:Effectively reduces hair loss and dandruff

PLANT KERATIN:Has protective Proteinand maintains moisture balance in the scalp

D-PANTHENOL:Known as Vitamin B5 and smoothensand tames hair

RED ONION SEED OIL EXTRACT:• Flavonoid Rich
• Strengthens Strands
•Improves Hair Growth


Ingredients : Red Onion Seed (Allium Cepa) Oil Extract, Black Seed Oil, D Panthenol (Pro-Vitamin B5), Plant Keratin, Vitamin E, Coconut Oil Derivative, Sweet Almond Oil (Prunus Amygdalus Dulcis), Liquorice Root Extract,Red Onion Seed Oil (Allium Cepa) Extract, Cocodimonium Hydroxypropyl Hydrolyzed Wheat Protein (Gluten Free), DM Water (Aqua).

Our Onion Shampoo has the goodness of Onion that helps in reducing hair fall while the presence of Plant Keratin in this formulation works gently on the hair and keeps it clean, strong, and nourished. It cleanses hair and prevents the damage caused due to washing. It also forms a protective layer that strengthens hair roots. Plant Keratin prevents damage & dryness, maintains the moisture balance of hair, and leaves hair soft & smooth, and keeps the hair roots strong.

The hair fall control Vaadi Herbals Onion Shampoo with Blackseed Oil is an excellent formulation that helps control hair loss, strengthens hair follicles, and clarifies blocked roots. Formulated with gentle and natural ingredients, it protects the scalp and hair, and promotes blood circulation to the roots. Red onion extract helps to strengthen strands, unblock roots, and manage scalp infections. Black seed oil rich in fatty acids nourishes scalp while Sweet almond oil keeps the scalp and hair conditioned. It can be used to hydrate the roots and scalp and help make hair look healthy and lustrous. D Panthenol or Pro Vitamin B5 is an essential nutrient that helps strengthen roots, moisturizes the hair roots to make them softer and stronger.

Smoothens Hair: Coconut oil in this conditioner penetrates deep into the scalp and promotes the overall health of scalp and hair. Coconut triglycerides are great at keeping your hair soft and smooth

Detangles hair: The conditioner contains nourishing ingredients that help in detangling hair leaving it soft and smooth.

This shampoo is suitable for all hair types, that cleanses and moisturizes the hair and scalp and helps to improve hair texture.

Take a small quantity of theOnion Shampoo and lather up. Apply on wet scalp and hair and massage it gently into the scalp. Rinse and repeat if required. For best results, Use Onion Conditioner take an appropriate amount of conditioner onto your palm. Apply all over the hair working through ends. Wait for 3-5 minutes. Rinse thoroughly.