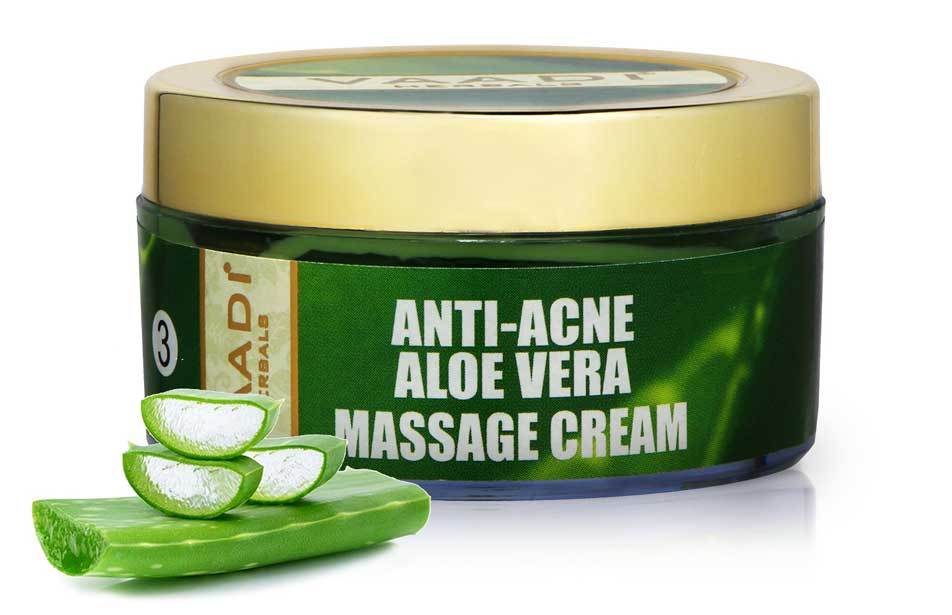 Anti Acne Organic Aloe Vera Massage Cream - Removes Skin Impurities - Keeps Skin Soft (50 gms/ 2 oz)
Rs 325
Rs 325
Free Delivery/ Pay Cash on Delivery/ Including VAT (for Orders Above Rs 500)
Enriched with Aloe Vera and numerous herbal oils, this cream reduces wrinkles and fine lines. It also protects your skin from pollution and harmful UV rays

Ingredients : Steam Distilled Aloe Vera Extract (Aloe Barbadensis), Green Tea Extract (Camellia Sinensis), Coconut Oil Derivative (Cocos Nucifera Oil), Pure Kokum Butter (Garcinia Indica Seed Butter), Jojoba Oil (Simmondsia Chinensis Seed Oil), Shea Butter (Butyrospermum Parkii Butter), DM Water (Aqua)

The everyday wear & tear of the skin leads to premature aging and stressed out skin. A regular massage not only rejuvenates the skin but also prepares the body for days ahead. With a proper massaging cream, that provides adequate nourishment to the body, one should massage. This helps in a proper blood circulation which further imparts a beautiful glow to the skin and cures skin eruptions, irritations and soothes the skin making it appear younger, softer and healthier. Sore muscles and aches are also cured by a quick massage.

How does Aloe Vera beautify the skin ?

Aloe Vera Gel is extracted from the medicinal Aloe Vera plant's leaves by process of squeezing. This is extremely useful in a number of ways. For the Skin, Aloe Vera is no less than a medical factory having cure for almost every skin problem possible. Aloe Vera has the following benefits: Healing and cooling action: Aloe Vera cures chapped and dry skin by providing it essential moisture and cooling it from within while healing it. Aloe Vera removes the dead skin cells which get accumulated on the skin and make it dull and prone to acne and irritation. Aloe Vera soothes and cools the skin facilitating a faster healing. Best Natural Skin Moisturizer: It's moisturizing property is commendable because after curing the pimple and acne prone skin, it also moisturizes it. It penetrates deep in the layers and helps in nourishing the skin from within, imparting a kissable glow.

The moisture cover of Jojoba Oil

Simmondsia chinenis or Jojoba tree yields this highly moisturizing Jojoba Oil. It is commonly called as wax ester. Jojoba tree plantations are found in North-west Mexico, South Arizona and South California. Out of all the oils found in nature, Jojoba Oil is most comparable to the oil produced by sebaceous glands of the human skin. Providing skin with high level of nutrients and moisture, Jojoba oil regulates the oil balance, removes flakiness and cures dry patches. Also, the skin feels softer, healthier and has a glow about itself.

The benefits of Jojoba Oil include:

Regulating the oil balance 24*7 moisture cover: Jojoba Oil does not evaporate and hence keeps the skin hydrated round the clock. Jojoba Oil has a high percentage of anti-oxidants which keep the skin safe from external factors Easily absorbs and does not feel greasy

 

Shea butter: the formula for the Perfect Skin

The Shea tree, also called Vitellaria paradoxa, which is found in Africa yields the Shea butter. It is extracted from the nuts of this tree. This ivory-yellow butter is an excellent moisturizer and cures dry patches, chapped skin and lips, cracked knees, elbows on the first few applications itself. Shea butter on the skin forms a film of protection, safeguarding the skin from environmental hazards- sun, pollution, infections and dirt. It does not clog the pores, rather help the skin breathe and absorb the best of all ingredients.

Shea butter is effective for the following:

Cure allergies and irritations as well as dry patches Fades away wrinkles, fine lines, blemishes and scars Moisturize the skin from deep within making it velvety soft Softens the hard skin on feet, knees, elbows and hands by providing enough moisture Improves the skin's elasticity and flexibility Stops skin flaking Prevent Stretch marks which occur due to pregnancy, weight-loss/gain or skin aging.

What is Kokum Butter and how does it nourish the skin ?

Often substituting Cocoa Butter, Kokum butter is taken from Garcinia Indica Tree's fruits. The Garcinia India Trees are found in India. This emollient butter melts faster than Cocoa Butter and gets absorbed in the skin's layers in no time. Kokum Butter's cracked look should be overlooked as it contains high level of fatty acids which oxygenate the skin cells and aid the cell regeneration process. Kokum butter prepares the skin for the nutrition by other ingredients. The presence of a powerful antioxidant- Vitamin E makes Kokum Butter a safeguarding as well as healing agent for the skin. Despite having a thick, greasy look, Kokum butter does not clog pores as it melts fast and percolates down the skin's layers, moisturizing from within. With a regular use of Kokum Butter, the elasticity of the skin improves which prevents wrinkles and early signs of aging. Also, stretch marks are prevented. Kokum Butter is a boon to dry and chapped skin as with just one use the skin glows with life. Worn out skin cells are renewed and calloused skin breathes with health."

Take An Appropriate Amount Of The Cream On Your Finger Tips And Apply All Over The Face And Neck. Massage With Firm Circular, Upward And Outward Movement Till It Is Completely Absorbed In The Skin.